Once you were alienated from God and were enemies in your minds because of your evil behavior.  But now He has reconciled you by Christ's physical body through death to present you holy in His sight, without blemish and free from accusation.   Colossians 1:21-22
The followers of Christ in Colosse received a letter from the Apostle Paul.  The message was addressed to them, but is certainly applicable to us today.  Paul uses the accounting term reconcile in the letter to remind us of God's plan to bring us back to Him in spite of our blundering conduct.
Scripture clearly teaches that the souls that admit guilt, ask for Christ's forgiveness, and give the authority of their lives to God are accounted as holy.  There will be no accusations allowable against them in the court of heaven.  They will be credited as holy and deemed free from blemish.  The penalty for ALL past, present, and future sins was transferred onto Jesus and paid in full by Him on the cross at Golgotha.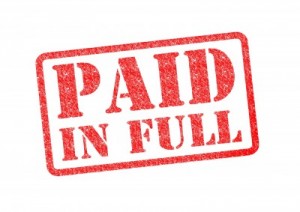 The death penalty I deserved for my sin separated me from God, but Christ became my substitute and brought me back to God by paying off the terms of my debt.  He reconciled me to Himself.  His death satisfied the humanly impossible situation my sin created.
This spiritual accounting concept frustrates some.  Those planning on using good works as a way of banking equity and balancing the account are trusting in a bankrupt system.  When it comes to sin, the heavenly economy is run solely on the blood of Jesus.  God's terms have been set.  His offer to obtain the simple, yet profoundly expensive, free gift of His love to us is still available.
Are you living in attempts to reconcile yourself back to God through good works?  What will you do with your life today in response to His incredible gift?
Blessings,
Wes