He restores my soul. Psalm 23:3
We all have experienced times in life that we have wandered off the path or stumbled along our journey. All we like sheep have gone astray; we have turned—every one—to his own way.  Isaiah 53:6  When sheep take an errant way or fallen, it's obvious because they are cast.  I don't mean they've landed a spot on a reality TV show or that an orthopedic technician has set a plaster splint on their leg.  I am referring to the term used for sheep that have fallen on their back and are not capable of righting themselves.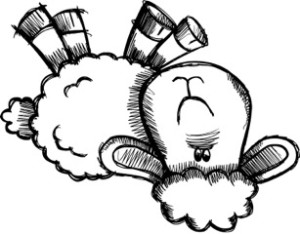 Whether a sheep has rolled over in a soft spot of grass while resting or if they have lost their balance, once a sheep has falls on its back, it has no ability to get up on its own. In a relatively short time, gasses build up in a cast sheep's stomach, bloating occurs, and circulation is cut off resulting in death.  The shepherd needs to be attentive to his sheep to ensure they are in good care.  He must be near to restore a sheep to the standing position or all will be lost.
We have all found ourselves on our back with our feet sticking up in the air. It's in those times we would do well to call out to our Shepherd for restoration. Restoration means to repair, renovate, or return to a former condition. Since God is the one who made us, only He knows our deepest needs and can restore our soul. Like the bleating (pathetic moaning noise) of sheep and the fluttering of little hoofs in the air peddling frantically trying to gain traction, our vigorous activity can't reset the condition of our hearts.  Only God can restore your soul and make beautiful things of your upside-down life.
God has seen your day and knows all of your struggles.  Don't let the devil pull the wool over your eyes by lying to you and telling you that you have strayed too far from the reach of God's assistance. What area of your life needs a restoration project and repair?  God offers to help you today.  Will you let Him?
My prayer today is that you would be restored and refreshed by the Shepherd today.
 Why so downcast oh my soul?  Put your hope in God! Psalm 42:11