The mind of man plans his way, but the LORD directs his steps. Proverbs 16:9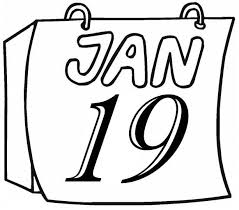 Transferring to a fresh wall calendar each year is a lot of work. There are special dates, birthdays, appointments, and other important items that will direct us throughout the year. If you take 15 minutes to slowly review your 2014 calendar, you will have a walk down Memory Lane. You will have a chance to re-celebrate the victories and renew your commitment to overcome your defeats. Overall, you will be granted a great view of what your last 12 months has been all about. Each calendar year serves as a mile marker in life that your Maker has granted you. Each mile has it's own unique set of experiences and memories.
This year 2015 brings with it a distinction. More than any other time in history, fewer people will not be referring to a wall calendar; we use an app on our smart phones to track our day. Unless reminded, you will probably not take the trip down Memory Lane. Instead, like most people, you may have rushed right into this new year, forgetting all the lessons reviewing the past affords.
Set aside some time. Give yourself permission to sit for 15 minutes and reflect on 2014. Ponder what God has done in your life. Be thankful, be mindful. There are 346 days left this year, so there is still time to put yourself into a position to accomplish all God has for you in 2015.
Get ready and get set before your 2015 is gone.
Blessings,