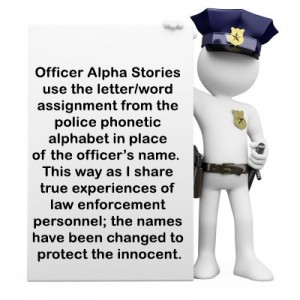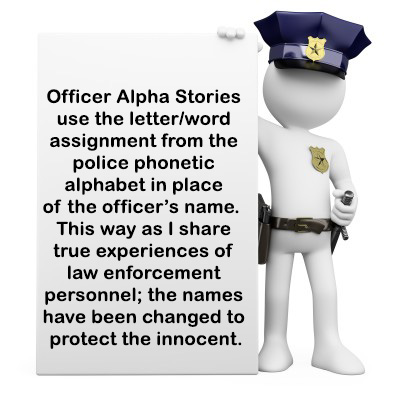 Officer Nora was on patrol in a residential neighborhood and observed a lime green "pimped up" sedan with dark tinted windows and expired California registration tags.  She spun a u-turn and wisely called for another unit then initiated a traffic stop which blocked part of the roadway.  As she approached the car with chrome accents and wheels that stretched nearly as high as her waist, it was obvious that the owner had a lot of cash invested in his "baby."
Like animals can sense fear in someone, good cops can spot a dirt bag from quite a distance and recognize a sour story–before it even comes out of a mouth. Officer Nora's training and experience promoted her to admonish the driver immediately when he began to tell his "story."  "Don't even try to lie to me," she said.  "I've been doing this job a long time."   She reads his response and knows the story might improve a little, but she will not likely get more than half truth.  She figured the reason she would get any truth at all was because it was sunny outside and she was smiling.
Officer Nora continued her light conversation with the driver while she waited on her backup.  She knows having multiple officers on a stop is the safest course of action and often produces more compliant responses.  Her cover officer arrived with a tall male ride along.  Conversations ensued about the driver's restricted license and his inability to verify ownership of the car. The occupant was preoccupied with multiple cell phones during their conversation and was not giving Officer Nora appropriate attention or following through with her directions.  He started craning his neck to see who else was present and seemed to be sizing up Officer Nora and her partner and then the ride along.
Polite Officer Nora made several repeated requests for the driver to put down his cell phones and step out of his vehicle.  He seemed a bit nervous, began gathering his phones and attempting to get out.  His obsession with not wanting to part with his property and his shifting eyes spoke clearly that he might try to run.  He was again instructed to leave his belongings in the car and exit with his hands out in front of him.
He looked around one last time and seemed to have a change of heart.  He became apologetic, put his belongings down and graciously complied with all future instructions.  A brief pat down for weapons was conducted, and he sat as directed on the curb.  Officer Nora's partner continued dialogue with the subject as Nora conducted a brief search of the car in hopes of acquiring proof of ownership.  During her exploration, she discovered a loaded semi-automatic handgun wrapped in a colored bandana in the center console.  She calmly returned to the curb and approached the subject from behind, making motion to her partner that she was going to apply handcuffs.
"Hey, what's going on?  What's wrong?" the subject asked.  Officer Nora replied, "Give me a minute and I will explain it all to you."  Once cuffed, Officer Nora informed the subject that she had found a handgun in his center consul.  He blurted out with a flabbergasted tone and shocked look on his face, "Whoa!  How did that get there? I don't know anything about that thing!  I don't even like guns."
Needless to say, nobody within ear shout was convinced and his shamefully poor acting skills didn't help sell his spontaneous statements either.  The car was impounded, and he was subsequently arrested for possessing a loaded handgun and taken to the station for processing. The sad part of the story is that Mr. "I Don't Even Like Guns" was booked and released before the ink was dry on Officer Nora's report.
Cops often replay scenarios like this in their minds over and over wondering What were his intentions?  Was he planning to gather his cell phones and run leaving the gun and car behind? Was he sizing up me and my partner and thinking we would be the gang member's next victims?  The truth will not be known.  What we do know though is that Officer Nora managed the scene with professionalism and steady tactics.  She also went home at the end of her shift.
You may not see it in their eyes, but the people patrolling and protecting our neighborhoods know the risks in front of them every day.  But even with all the dangers and hazards, they continue to serve willingly. Thank you, Officer Nora, for your dedication and courage.  Every day you leave your precious little loved ones at home to come to work.  Every day is a great sacrifice for you and your family, and we appreciate it very much.
Next time you see a cop, smile and say hello.  Say a silent prayer for their safety, and remember that your inconvenience due to the way they seemingly carelessly park their cars blocking the roadway might be intentional for their safety or the safety of someone else.