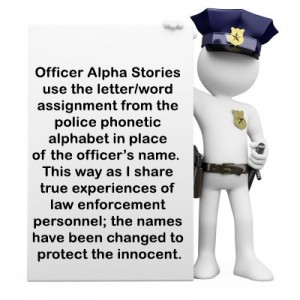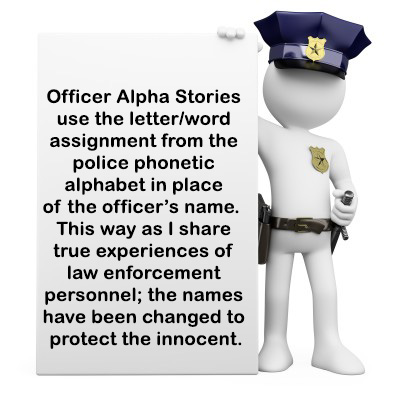 Years ago Officer Boy responded to a radio call of a jumper on a local freeway overpass. As the first to arrive on scene, he went directly to the young woman perched on the outside of the bridge barrier. She was standing on a narrow strip of concrete loosely holding the top of the railing with one hand.
I noticed Officer Boy's distant gaze while he recounted the story. "My first thought was, 'How do I stop her from jumping and ending her life?' I did my best to calmly initiate conversation with her and quickly learned of her deep distress. I can't remember exactly what she said, just that she was convinced her life was not worth anything to anyone anymore."
Within minutes, a second officer arrived and stood opposite of Officer Boy, with the woman about five feet between them. The second officer was young and strong. The severity of the situation was clear by the look on their faces, and the officers knew their words and actions came with life and death implications.
Officer Boy went on, "The woman would look down at the passing cars below and then back at us with resolve in her eyes. We gently engaged her in conversation hoping to deter her from completing what was in her heart. My partner and I both knew we needed to act fast. Using only non-verbal gestures, we formulated a plan. With a single nod, we both lunged and grasped her hand. We lifted her over the bridge barrier and back to safety."
"The young woman was taken to a mental health facility for care, and I never heard what happened to her after that day or what became of her life. I sometimes wonder if she found the support and hope she needed or if she made future attempts. It has been more than 25 years, but I still picture her hand on the rail when I am near the area where it happened."
Officer Boy shared the story to make the point that the incidents police officers face are often not easily forgotten. "One of the negative things about this job many people don't understand is some of the things we see and experience never leaves our mind. I have plenty of memories from my years of service that are fun to recount, but sadly, I also have scenes flashing up from time to time that I have bid farewell to. But sometimes they just keep coming back."
"I consider that day on the freeway overpass a good day," Officer Boy said. "I did my job to protect and preserve life. As law enforcement representatives, that's what we do, that's who we are."
Thank you, Officer Boy, for your lengthy service, for always making a point during your career to pray for safety while on duty, and to fulfill your assignments to the best of your ability. May God bless you and your family.
If you see a cop today, smile, say hello, and lift a silent prayer for him–He could be carrying a heavy heart.