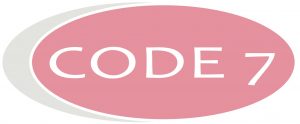 ---
PINK PATCHES
---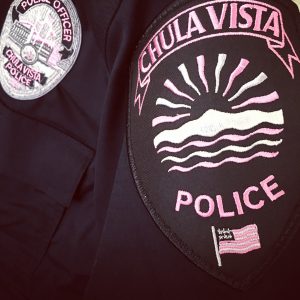 In September, Code 7 rolled out the pink patch plan and provided each police officer in Chula Vista with new pink and silver shoulder patches.
The officers had the opportunity to wear the pink highlights on their uniform and many did. The bold look was a hit not only with the officers, but with the community too.  The positive public engagement created by this opportunity affirming our support of breast cancer awareness month was a success.
The pink fundraiser of key rings and mini patches provided $1,500 to our local charity Loving You Through It, serving women in the midst of their battle with breast cancer.  We feel very blessed to have a community that responds in generous support.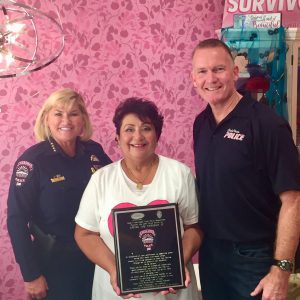 ---
BEST SPONSORS ON THE PLANET
---
A special Thank You to the businesses for getting us started with seed money funding our pink patch project.
Chula Vista Brewery, Glen Abbey Mortuary, Chick-fil-A Eastlake Terraces, Best Way Printing
---
THE CALL
---
On a more somber note, September had one of my most challenging moments in my 10 years as a police chaplain.  I was on a ride along when an officer was attacked and stabbed by a suspect. I'm pictured below getting into the ambulance with the injured officer.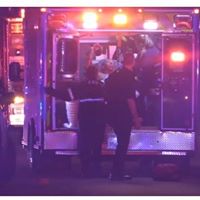 We were responding to a neighbor dispute, and while we (two officers and me) were inside a house, a man also residing there came around a corner with a knife and began stabbing one of the officers multiple times in his face, head, and arm. The officer had no choice but to pull his service weapon and shoot the victim to stop the threat on his own life. The suspect ended up dying as a result of his injuries.  This type of incident is the most difficult to navigate afterward due to the ultimate outcome.
Please pray for the officer as he is in the process of recovering physically and working through the traumatic event with the help of excellent therapy/care providers.  He has a very thankful heart and knows it could've been worse for him.
Here's a news link to the news story that was decently accurate.
https://www.nbcsandiego.com/news/local/One-Shot-in-Possible-Officer-Involved-Shooting-in-Chula-Vista-445947203.html
---
WALL ART
---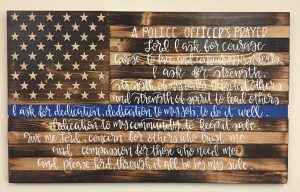 Someone made and hung this artwork in the police line up room.  It's quite nice I must say.
---
IN CONCLUSION
---
Thank you for your support of Code 7 and for helping us love on our local law enforcement. May we recognize their value and their extremely difficult job of policing and caring for our community.  Without our cops holding the thin blue line firm, chaos would run free.
…I have become all things to all people, that by all means I might save some. 1 Corinthians 9:22
We should help others do what is right and build them up in the Lord. Romans 15:2
Blessings,
Wes Anderson
Founder/Chaplain Code 7
"Though our feelings come and go, God's love for us does not."
C.S. Lewis