It's dark outside!  The ending of Daylight Savings Time provided an excellent opportunity for Code 7 to demonstrate some practical love.  Jesus said, "I am the light of the world.  Whoever follows Me will not walk in darkness, but will have the light of life." John 8:12 This week we gave away five small but extremely powerful tactical flashlights to police officers.  I set up a Code 7 display in the Report Writing Room for people to guess how many items are in a jar.  I sealed the container with evidence tape and my signature so there would be no extracurricular investigations.  Yes, cops are very competitive, so I decided to remove advantages that might be taken in the wee hours of the morning.  The recipients were lit up with excitement and promised to put their new devices to good use.  Blessed again to be a blessing!
Code 7 was blessed by a gift from Athletes for Education and passed on tickets to two San Diego Chargers' home football games.  We were able to provide a San Diego Police Officer the opportunity to take his sons to their first professional game, and on the second occasion, a National City officer was able to take his wife to a special breast cancer survivors' night.  Both were able to watch the Chargers WIN!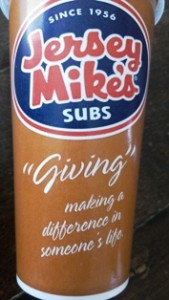 Pictured here is a cup from one of our newest sponsors – Jersey Mike's Subs.  I love the motto on their cup, because it reflects the Code 7 desire perfectly.  "Giving – making a difference in someone's life." I was able to arrange a squad meal for the swing shift next week and will be riding along that day to make sure everything tastes just right and the meal is enjoyed.  Somebody has to do a quality check =).  We are very thankful for the generosity of Jersey Mike's and other businesses joining Code 7 as we bless our local law enforcement.
I was given the opportunity to share Code 7 with two local churches in October and will be sharing again this weekend.  I am passionate about supporting law enforcement and believe as we all do our part to bless those who bless us, we will be rewarded.  As I describe the work of Code 7 and the needs of the officers, I sense I am fulfilling my calling. As I describe some of the stressors law enforcement face and the need they have for support, the audiences are pleased to know of the work we are doing and the positive effect we are having.
There was an officer shot in our county last month.  I was out with officers that day, and as I watched and listened to the brotherhood of response from each agency in the county, I can say I am proud of the courage of each and every officer that wears the badge and places his or her life on the line each and every day for our safety.
Please remember your local law enforcement when you sit down and eat dinner (your Code 7) with your family.  Our men and women in uniform are more than likely missing dinner with their loved ones.  Pray that God would keep them safe in mind and body.
Remember to tell the special people in your life that you love them!
As we near the end of the year, please remember Code 7 in your giving as God provides.
Have a blessed Thanksgiving,