---
Summer has landed in San Diego and it's gorgeous!
I want to start this newsletter by saying Thank You to all who support Code 7 through donations and prayer. I am very grateful for your commitment to me and the cops. I recognize how blessed I am to be "living the dream" in this area, and that my availability to serve comes directly from you and your sacrifice. Thank you for providing me with the opportunity to be in the cars with the men and women of law enforcement week after week. Your funding helps me to stand with (and behind) people I value and respect highly. If I am able to provide compassion, peace, lower stress, encourage, or brighten a single day this month, it's because you support the vision of Code 7. You are helping make this entire adventure happen. Thanks!
---
San Diego Trump Rally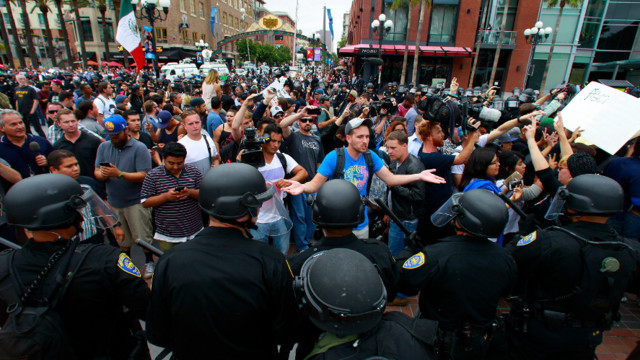 I am very proud of the San Diego County law enforcement team that joined in support of San Diego PD to serve during the recent Donald Trump rally in our city. The agencies worked together to keep the peace downtown in the beautiful Gaslamp district. Putting aside their personal political opinions, our men and women in blue kept the crowds of protestors and supporters peaceful and without major incident. They kept their composure during insistent taunting, having objects thrown in their direction, and being called every vulgar word in the book. Thank you, San Diego County law enforcement, for doing a great job representing America's Finest City. You were downright amazing!
---
Wedding Bells
I was privileged to officiate two police officer weddings in the past month. One was intimate and uniquely personal, the other was beautifully directed and proper in a picturesque setting. I was honored to be part of them both. May God bless their relationships and may their lives be enriched by each other.
---
Richard G. Anderson
April 26, 1935 – May 17, 2016
My father Richard Anderson died May 17, and his passing prompted donations in his name to Code 7. We found a note with his goals (at 81 years old), and one of them was to be financially able to sponsor the work I do with law enforcement once he was financially able. Thanks to my mom, he will be sponsoring our work through the selling of his car – a Buick – wouldn't you guess.
---
A Night To Remember Prom (ANTR)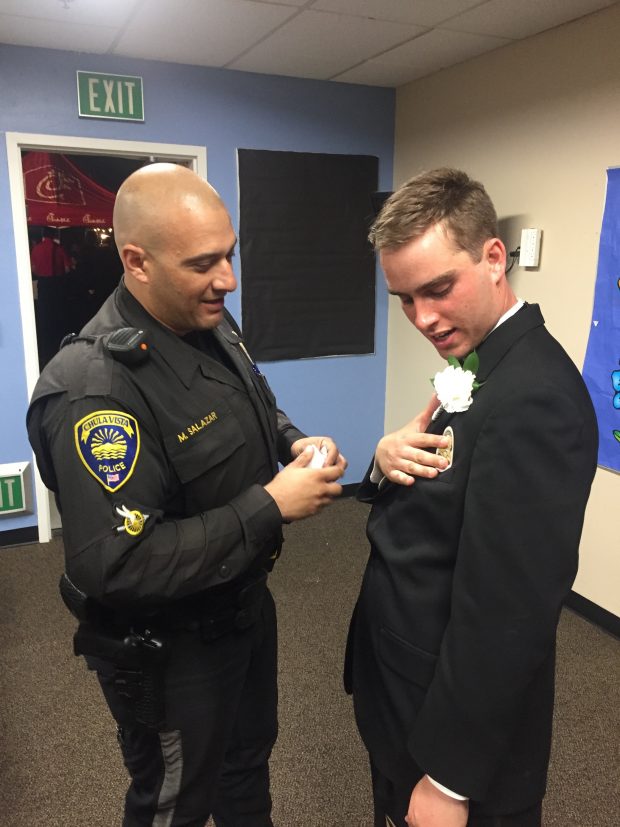 I volunteered to help with traffic control for ANTR and solicited the services of Chula Vista Police. After the work was complete, I offered to take traffic Officer Salazar on a tour of the event. During our tour a spirited young man very excited to see a police officer "up close" greeted Officer Salazar. Officer Salazar made the man's night by presenting him with an honorary police badge (sticker), which he proudly displayed on his tuxedo. He shouted, "Look, I'm a policeman everybody!" ANTR was such a fun and worthwhile time investment!
---
GOT WATER?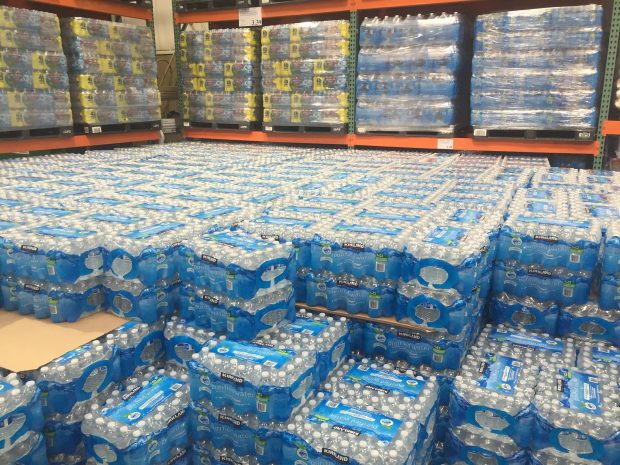 South Bay Community Church of National City and EastLake Church of Chula Vista gave generous donations toward our Cups of Cold Water (CCW) project recently. I want to say a special thanks to you and your churches for supporting our police officers in this way. Wearing dark uniforms underlain with a Kevlar vest, and driving around in black cars makes for thirsty people.
---
Marriage Retreat
Code 7 is sponsoring three police couples to attend an upcoming law enforcement marriage retreat weekend. We are honored to have these police families interested in strengthening their marriages. Code 7 is sponsoring a portion of the cost to make sure finance is not a deterrent to them attending. May God strengthen their marriages and may this be a turning point that sets these couples up for a great future together
---
Cupcakes and snacks make some cops happy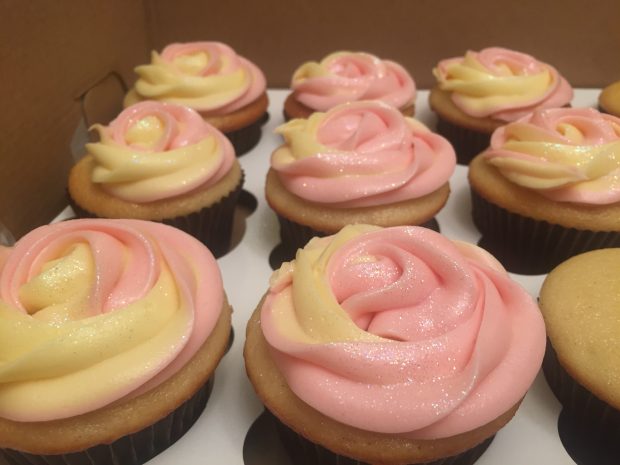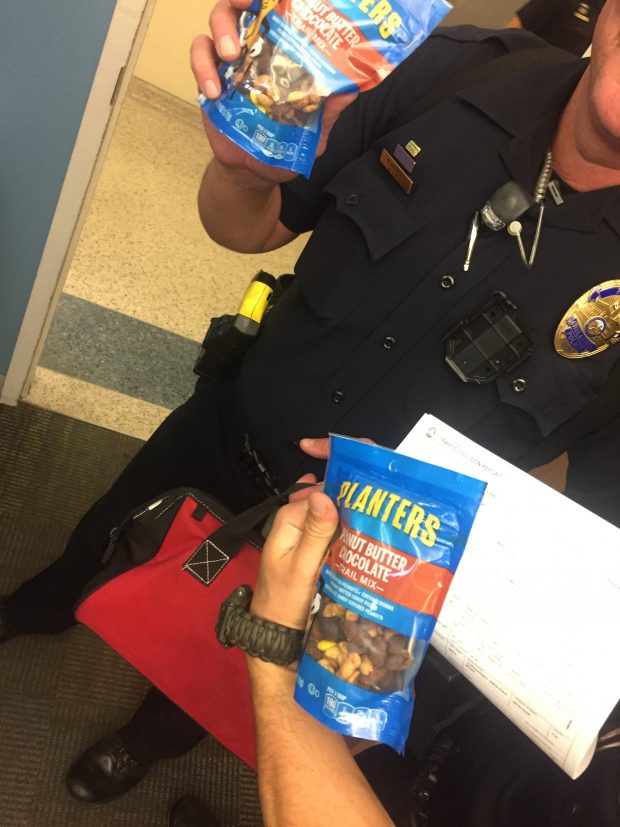 I sent out a text for a few officers to swing by the house and help resolve a problem for me. The issue was an overrun in my wife's cupcake production, and I thought it needed officer assistance. The problem was resolved quickly. Thanks for your response! I also had a food distributor ask how he could help. I told him snacks are good to have around the police department because police officers don't always have time to stop for lunch. I was immediately blessed with multiple cases of great snacks. Distributions of those were easy too.
---
Familiar Faces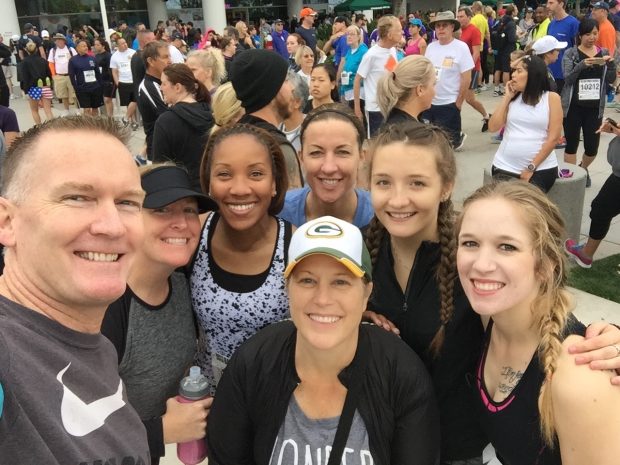 I ran into a few familiar faces when I was with my family out on the town a few weeks back. I usually see these people wearing wool pants and boots, but not that day. That crisp morning these special friends were in running shoes and workout gear heading over the Coronado Bridge. These folks were practicing self-care by being outdoors and participating in a fun run together. It's always great to see healthy living, and these lovely ladies helped make this outdoor adventure extra special.
---
Final Thoughts
Until we reach the other side lets honor our sheepdogs, our cops, as they actively hunt the evil of this world that most of the world denies exists.
In closing, here is an encouraging verse for us to practice.
So this is my prayer: that your love will flourish and that you will not only love much but well. Phil 1:9 (MSG)
Blessings,