Welcome springtime, welcome new CAST graduates, welcome wild daisies, and unwelcome weeds in my back yard.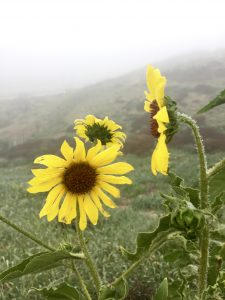 ---
Citizens' Adversity Support Team (CAST)
---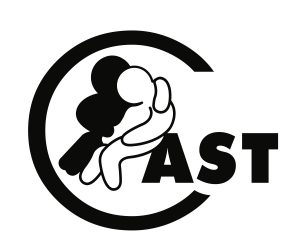 I'm so proud of the accomplishments of my new CAST friends! They are now part of the team sharing care, compassion, and comfort with others who are often suffering the worst day of their lives.
The new team members have completed 76 classroom hours, Fire and Police ride-alongs, an ER observation, simulations, and mentor callouts, earning their volunteer badge and crisis response position with CAST.
Welcome to the team friends! We are grateful for your willingness to support and serve others. God Bless you!
---
Ankle Fools Day – No!
---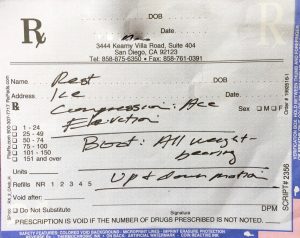 If you heard a story on April 1st (April Fool's Day) that I had broken my ankle, well, it's true. There is no heroic or adventurous story to go with the break, just a simple fall after missing a step.
The doctor prescribed rest, ice, compression, and elevation (RICE), so my biking, hiking, and running have been traded in for a few good books that have been waiting patiently on my desk for quite some time.
Get Well Soon
I received texts from multiple police officers reminding me to REST | REFELCT | RENEW. This is the message I preach for their wellness, so I guess it is only fair they serve it back to me.
I was also informed that now I can better relate to officers who go out with injury and have to slow down due to this physical "time out" status. Nothing easy about this.
---
Crazy Cool – San Diego FBI Citizens Academy
---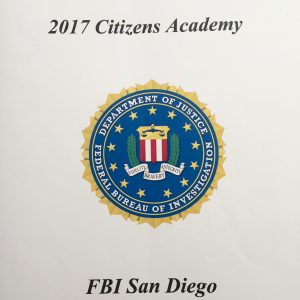 I am a proud participant in the 2017 San Diego FBI Citizens Academy. It's a special honor to be included in an orientation of the investigative specialties of this Federal Law Enforcement Agency.
Each week we are introduced to Special Agents who oversee sections of security employed by our nation to combat terrorism, human trafficking, foreign intelligence, espionage, cyber-based attacks, public corruption, civil rights, and criminal enterprises.
The entire experience has been eye opening and has stretched my mind to know how far people go to cheat, lie, and steal and do injury to others, as well as how much effort and energy is expended to bring those people to justice.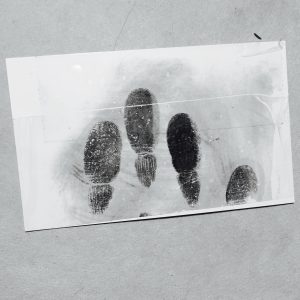 We played with the collection of fingerprints (mine) and alternative light sources utilized in revealing substances not visible to the naked eye. I can't tell you everything they do because, well, I'm sure it's classified.
For extra excitement, our class was invited to spend a week exploring Washington D.C. and we have been approved for a tour of the Quantico, VA, training facility. I can't wait!   Thank God for the FBI helping keep things in balance.
---
Room 525
---
Please pray for my LE friend "Mike" in room 525. He has been in and out of the hospital with an infection in his leg for a number of months now.
I visited him one day last week, and he was in good spirits awaiting yet another procedure. He had a good laugh when I shared the story of a little crash I had on the steerable knee walker (scooter).
We both agreed that being held down with physical limitations is difficult, but we are thankful to be alive, and we are willing to receive the difficult days along with the good. Get well soon.
---
The Silver Lining
---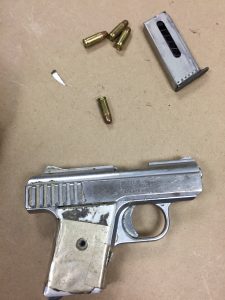 The gun pictured here is fairly small and just as lethal as any other handgun in the possession of a criminal with ill intent. A suspect was carrying this little .25 pistol as he fled from police.
He had brandished it at another citizen minutes earlier after a traffic altercation but abruptly decided to drop it at the last second after a short foot pursuit once he saw the police officer round the corner with his police service weapon drawn.
The suspect's decision to drop his silver treasure was quite possibly the wisest decision he had made all day.
Confrontations with guns will happen if you serve in law enforcement. Our officers are well trained and are required to make split second decisions to shoot or not shoot based on what they see and the overall lethality of the situation.
Scenarios like this one sometimes have fatal consequences. The silver lining here is that all parties involved went away uninjured and that the officer used restraint in this highly volatile situation. Much respect.
---
Police Department Lunch
---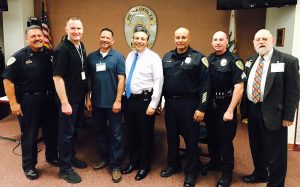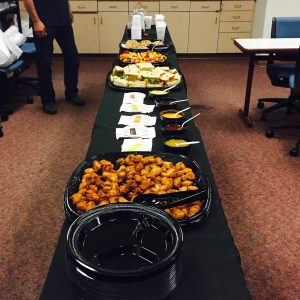 The newly formed National City Clergy Association, along with a generous donation from Chick-fil-A, Eastlake Terraces, provided lunch for the entire National City Police Department in March.
I know, food pictures are taboo, but I just had to drop in a picture of this spread for your visual pleasure. The Command staff aren't so bad looking either. 
---
Chaos is contagious – but so is kindness!
---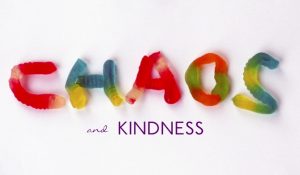 Chaos keeps our police departments in business. General disturbances and complaints fill screens every day with calls for service. What I am impressed with is the ability of our law enforcement to resolve a myriad of issues with kindness.
Some of the calls for service are so crazy that there's a saying repeated often, "You just can't make this stuff up." Staying professional and kind is sometimes very difficult, especially if the clients they are working with are not going with the program.
Cops constantly deal with the mayhem since they are committed to helping make our communities safer and better places to live. If you see a cop today, be nice and thank them for their work. They deserve a little kindness and support for all the chaos they endure.
---
10-4
---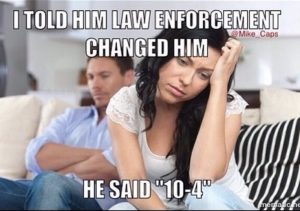 Our police officers go through many mental, emotional, and spiritual changes during the course of their career. Their job can easily change their worldview. Spending 40 hours weekly problem solving 80% of the problems by managing 20% of the population has its stresses.
There is absolutely nothing enticing about a job where the majority of your contact with the public involves your being cursed at, constantly criticized, avoided, and lied to.
If you have a loved one serving in law enforcement, I thank you for the time and energy you expend caring for them. Your healthy relationships are part of what helps them stay sane, secure, and knowing their service is valuable.
Your support helps them maintain and regain balance and value of faith and family. Together with others that love cops, we are infusing healthy care and giving opportunities for them to maintain a centered and balanced view of life.
---
In Conclusion
---
Code 7 is honored to be part of the solution and backing the men and women keeping the thin blue line.
Thank you for your interest and support of Code 7.
Blessed are the peacemakers: for they shall be called the children of God. Matthew 5:9
Blessings,

Wes Anderson
Founder/Chaplain Code 7
"Though our feelings come and go, God's love for us does not."
C.S. Lewis