ECLIPSE 2017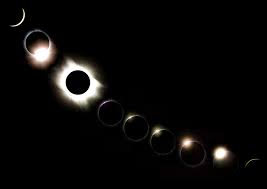 It seems everyone survived the Eclipse 2017.
The heavens declare the glory of God; the skies proclaim the work of his hands. Psalm 19:1
---
Traffic Fatalities
---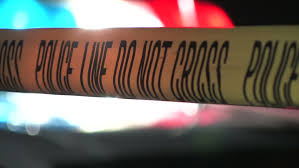 People are being ushered into heaven but not by choice. That statement may sound confusing, but it was made with intentionality. Some people can see their final days approaching, but people killed in traffic collisions rarely expect it.
A family friend saw the face of Jesus unexpectedly two weeks ago. His departure from earth was not foreseen. He was in full swing with wedding plans; his bride-to-be and their families were almost done with the final touches of the celebration. This young couple were just three weeks away from saying I do.
Friends, let me encourage you to first, keep a short memory on those who have wronged you, and second, tell those you love about the place they hold in your heart. Tomorrow is not guaranteed so make today the best day possible.
---
Pink Patches for Chula Vista Police Department
---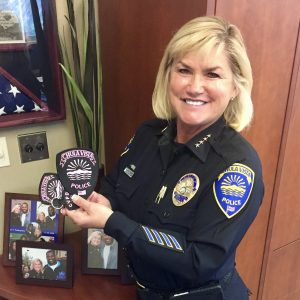 Chief Kennedy is really excited about the new uniform patch coloring and gladly posed form the reveal.
I received approval from Chula Vista Police Department to provide pink accented uniform patches to the officers in honor of Breast Cancer Awareness month in October. Officers will have the option of wearing pink patches during the month of October each year from now on due to the memorabilia provided by Code 7 and through special sponsors.
We also created a reduced size (3/4 size) limited edition patches and key rings as a fundraiser, which are available for a donation of $5.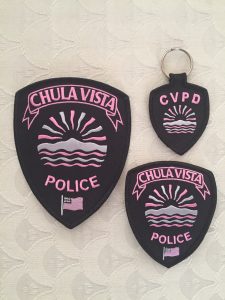 We have selected "Loving You Through It" (LYTI) a local non-profit started by a personal long-time friend and breast cancer survivor Snooky Rico. LYTI is designed to bless women battling cancer.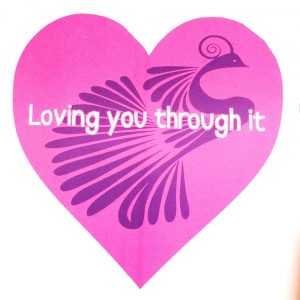 LYTI offers professional oncology beauty services specializing in hair, make-up, and skin care during and after chemotherapy. They help build confidence and bring hope needed for oncology patients to face every day.
LYTI is a perfect match for our Code 7 focus, and I am excited to partner with them through the Pink Patch Project.
If you would like to donate in support of the fundraiser, you can go to our website and donate (memo: Pink Patch), and the donation will be added to the fundraising efforts. Contact me if you would like to purchase key rings or patches.
If you see a cop in October wearing pink patches, thank them for their participation in breast cancer awareness and this project.
---
Ted's Trailer – Teddy
---
Costco is willing to load a pallet of water with a forklift but my truck won't hold the weight, enter "Teddy".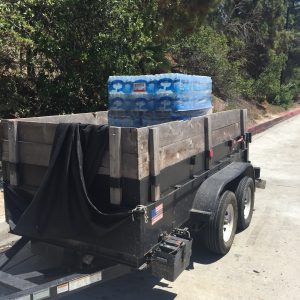 Teddy is a heavy-duty dump trailer I have been using off and on to pick up and deliver water to the police station for the past two months. Teddy saves me a ton of work (literally) by taking a pallet load of water and carrying it to the police department weekly.
Teddy also saves the $130 weekly delivery fee and keeps our monthly water bill under $1,500.
Teddy is a borrowed tool from Ted, a friend of Code 7. One day we hope to have our own trailer, but for now Teddy is usually available for use.
Thanks, Ted, for loaning us Teddy. We hope we don't need to continue this one-way relationship forever.
If and when we are able to get our own trailer, it will be time to name him/her. Suggestions welcomed.
---
Healthy Code 7
---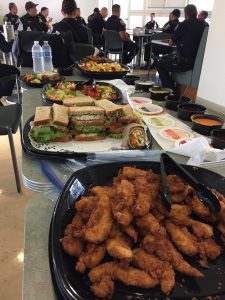 A special thanks goes out to our sponsor Chick-fil-A (CFA) for helping provide healthy choices for squad meals last month. Chicken, sandwiches, salad and fruit were all part of the great meal.
I'm thankful to the generosity of CFA and to the regular donors who make these monthly meals possible. Healthy cops are happy cops, and that's what we are striving for.
---
In Conclusion 
---
Code 7 exists to serve and support law enforcement agencies, their personnel and families. We are in the business of bringing hope into the workplace of our cops.
Providing relationship counseling, celebrating victories, compassion and care during trying times, and referrals for those needing specialized care are all part of our mission.
We believe our law enforcement officers are commissioned by God and are fulfilling their calling by providing this valuable and necessary service in our communities. The duties of the position they hold are often difficult. The skill and tact in which they fulfill their responsibilities is a precious commodity in our society.
We are proud to stand beside our police officers and provide support to them and their families. God bless our law enforcement. We are also very thankful for your interest and support of what we do!
Blessings,

Wes Anderson
Founder/Chaplain Code 7
"Though our feelings come and go, God's love for us does not."
C.S. Lewis