I think I put on 5 pounds over the past month after delivering and sharing 13 squad meals! One of the days I delivered meals at 6AM, 9AM, and 2PM. Since I share the meal with the officers, I had no room for dinner or breakfast the next day. Well-fed cops are happy cops, and that's what we like. Each patrol squad at Chula Vista and National City Police Departments were treated to breakfast, lunch, or dinner. A special thanks goes out to EastLake Church, Chick-fil-A, Jersey Mike's, and La Bella's for helping make the special Code 7 month of July a success.
---
Each month I look at the pictures on my phone to see what I experienced, and this month was packed. I finally dropped off the refrigerator to my friend Chuck, El Cajon police chaplain. Code 7 donated the refrigerator and a sponsor gave money specifically to get El Cajon started in the cups of cold water program. While dropping off the refrigerator, I was taken on a private tour of some parts of the new El Cajon facility. We were temporarily locked inside the jail during the tour, but what is a day without some adventure!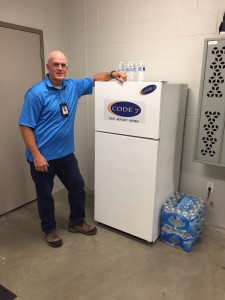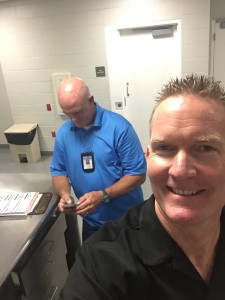 ---
I had an amazing time in Sacramento last month at the International Conference of Police Chaplains (ICPC) conference. I traveled with my friend Chuck (mentioned and pictured above). We took some long early morning and late afternoon walks sharing stories of God's goodness and the privilege of being chaplains. We also strategized about the ICPC regional chaplains conference we will be hosting here in San Diego in the fall of 2016.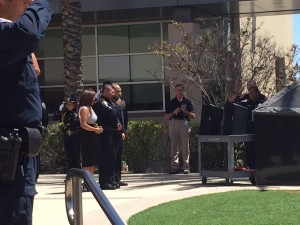 I was honored to observe the final acts of service of a retiring sergeant. He knelt and paid respect to the Fallen Officers' Memorial at Chula Vista Police Department and gave thanks to God for a long and safe career. Enjoy retirement, Sgt. Valdivia.
My picture is hanging in the hallway at the Chula Vista Police Department (and not as a dart board). I was called to the front of the afternoon line up last week and recognized by the Chief as the first-ever recipient of the Volunteer of the Shift Award. I would like to thank everyone for creating this new award for volunteers, and I'm honored to have been selected for January – June 2015.
I continue to be very heavily involved as chaplain for my departments and with the trauma and crisis team (CAST) helping people whose loved ones have died through a variety of circumstances. All of this is made possible through your prayers, financial support, and God's marvelous grace!
Thank you, Lord, and thank you, friends of Code 7!
Blessings,