Life is full of grand adventures serving as chaplain for our law enforcement. In March I was invited by Athletes for Education to bring a cop and take part in a literacy event at a local elementary school. Sharing the spotlight with a few terrific MMA fighters such as Jeremy Stephens, Danny Martinez, Phil Davis, and Brandon Vera to name-drop a bit, we shared a great morning encouraging young students to excel in reading.
---
Ups and downs of the CCW (Cups of Cold Water) project continue.  Like the stock prices, providing water for our patrol squads has its ups and downs. My water vendor jacked up the delivery price to 80% higher than what it is sold for in the store.  I am unable to order the water that way anymore, so I'm back in the delivery business myself.  The twice weekly up and down of pallet-to-cart, cart-to-truck, truck-to-floor at the police department "workout" is, let's say – invigorating.
---
Last month one of the Code 7 refrigerator doors refused to close.  After investigation, I ended up needing a new commercial door shipped from NY. I had to shut down the refrigerator for a few days and enlisted the services of my lifelong friend Bud to help install the new door once it arrived.  We are up and running again with our new Code 7 logo sticker and the reminder to Rest, Reflect, and Renew on the glass door.
---
---
National City Police recently had a promotion ceremony, and I was glad to be able to watch a son pin the new ranking badge on his father. It's a rare honor to have father and son serving together through law enforcement, and it speaks highly of their love for people and their dedication to the service of their community.
---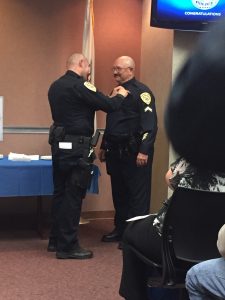 ---
Last week I snapped a quick picture while waiting for our lunch to be prepared. I bought lunch (Code 7) for the Sergeant and officer because of your support. It's always nice to insist on buying because the community told me to buy lunch and gave me the money to do it. So much communication toward and about police is negative in nature these days, so it helps to be able to bring a little appreciation and affirmation while we sit for a meal. Notice the order number in the picture. I asked for it specifically just for fun.
---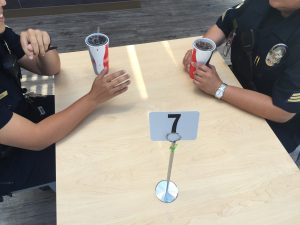 ---
The idea of a second chaplain at Chula Vista PD has been percolating for a while, and now I have a great candidate in mind. He has a keen interest in supporting the police through chaplaincy and loves the purpose and goals of Code 7. He is so interested that he started hitting the streets raising awareness and funds in support of what we do.   It's up to me now to put together a proposal to the department for an additional chaplain. Please pray for this to come together as I believe it would be a great benefit for the cops to have the additional resource for them and their families.
---
Here are some sobering words from an LA County Sheriff Deputy sharing the sentiments of many great men and women, "I have shared the weight of society's failures heaped upon the backs of peace officers who endure it and forge ahead with courageous hearts.  If people could see what my eyes have seen, they would understand what the few do for so many. People would be so proud of these flawed yet extraordinary human beings who give so much hope and protection to the defenseless. To be a brother to such men and women is an honor few are permitted, and I am grateful to God for the privilege.  I am so proud of my partners in law enforcement, and I plan to keep serving with the Los Angeles County Sheriff's Department."
I think the quote resonates the camaraderie and commitment to keeping us safe no matter the personal cost. Thank you to ALL the peacekeepers in our great nation.
We can take a great lesson from our peace officers, to endeavor to keep the peace ourselves and to be at peace with others.
If it is possible, as much as depends on you, live peaceably with all men. Romans 12:18
---
Thank you for your generosity toward our law enforcement! You are making a difference in their lives and in the lives of those they serve every day.
Blessings,

Founder/ Chaplain Code 7