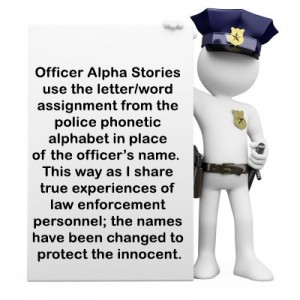 Officer Henry is known for his calm, pleasant demeanor and is well respected by his peers.  He works the swing shift, so he gives the community half his day and half his night.  Henry follows a routine; he arrives at the department a little bit ahead of schedule, he takes his time changing into his uniform, and he recites a prayer.  He asks for wisdom to handle whatever comes his way and for the safety of himself and his partners.  Like all law enforcement officers, Henry knows officer safety is paramount, and going home at the end of his watch is the goal, not a guarantee.
As the end of his shift drew near, Henry took time to reflect on his day.  Most of the shift he responded to radio calls, going from call to call doing his part helping people get along and trying to keep the forces of darkness pushed back.  There was nothing unusual about the day, nothing in the air that would warn or even hint of the danger that was about blow his way.
A radio call came in.  Officer Henry was a few blocks from a store where an armed robbery had just taken place.  It was reported that as the suspect fled the store, he stole a customer's car keys.  Officer Henry headed out and was on scene in no time.  He blacked out his lights and stopped his patrol car down the street to gain a clear view of the storefront before he moved closer.  As he scanned the lit parking lot, Officer Henry saw a man waiving his hands overhead flagging him down and appearing to be in need of help.
What transpired next took no more than a minute, maybe two, but to Henry, it felt like an eternity.  Everything in Henry's world seemed to transition into slow motion.  The man with waiving hands reached into his pocket and pulled out a handgun.  He began walking toward the patrol car firing at Officer Henry.   Still sitting in his car, Officer Henry had no place to go but down.  He slumped in his seat and keyed his radio.  With the echo of gunfire in the background, but with his curiously calm voice, Officer Henry put out a distress call.  Someone was advancing on him with a handgun, and he was taking rounds.
Officer Henry freed the patrol rifle and swiftly exited taking position at the back of his vehicle.  The whirling of bullets could be heard as shots were exchanged.  The wail of sirens began to ring out in the distance, and piercing blue and red strobe lights flashed throughout the region.  Not only were his partners responding, but agencies from around the county were racing to Officer Henry's side. The armed suspect was ultimately shot by Officer Henry with a non-fatal wound and went down.  His violent rampage, produced by the volatile combination of drugs and mental illness, had come to an end.
Officer Henry was not physically injured, and he made it home safely to his family.  His faith remains strong, but his heart now carries a deeper understanding of the evil of man.  He has always known death is near within his profession, but now he has looked death in the face.  Crazy, you say—YES, but responding to others in need is what Officer Henry and Peace Officers all around our country do as part of their duty as law enforcement.  They boldly confront the danger most of us would never choose to face.
The next time your senses alert you of a siren and flashing lights, pull over quickly to the right and clear the path for the first responders.  You may never know the reason for the scurry, but as you are on the shoulder of the road, say a brief prayer for people in need and for those rushing to assist.  Your pause and prayer may be just enough to make a difference in the life of someone else.
Lord, bless Officer Henry and all those serving with a badge. Give them wisdom and strength as they serve.  Protect them from harm and bring them safely back to their families at the end of their watch.  AMEN