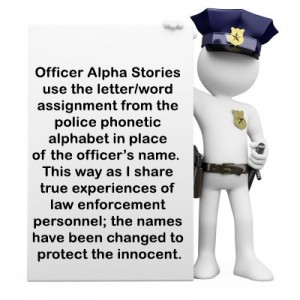 Anyone ever wonder why cops are such jerks?  Cops deal with every crappy, rotten, horrible, scary situation that exists in life.  Repeatedly. Day after day.  For officers, a typical day may include any number of experiences including:  car accident, homicide, rape, robbery, baby mama drama, baby daddy drama, family dispute over who gets the last pork chop that winds up with a dinner guest sporting a steak knife in the chest, a kid that goes missing or runs away, a dad who gets tanked up and uses mom as a punching bag, a drug overdose, and hostage situations.  Every despicable thing that one human being can do to another is what my husband is immersed in every day.
When you call, he comes.  When he comes, it is likely someone will be leaving in handcuffs.  You cannot call my husband to a violent situation and expect that in the end, everyone's tears will be dried, hot chocolate and cookies will be handed out, and "Kumbaya" will be heard in the background.  He is a law enforcement officer.  He enforces the law.  If you could have handled the bag of manure you called him about, you would have.  You couldn't, so the fact is, your husband/wife/brother/sister/baby mama/baby daddy/child/BFF may very well be spending time as a guest in the local jail in response to your call for help.
Cops hang out with other cops.  They get each other; they don't have to explain themselves. They laugh at things other people think inappropriate.  Their humor is dark, but they love to laugh.  They are football, soccer, hockey and baseball coaches. The divorce rate for cops is significantly higher, and with good reason.  They spend years being tired and grumpy from the crazy hours, the toll of the job, and pain-in-the butt bosses.
How, you ask, do I know these things?  I have spent years being married to one of them.  He is one of those big-mouthed tough guys who knows everything. He trusts no one.  He is a cop's cop. He has an amazing memory and an eye for detail that is astounding.
For years I watched him walk out the door, and I always prayed that he would come back.  There were some really close calls, but he always made it home.  I have never taken that for granted; I know too well the ache and emptiness in the eyes of the survivors of the shield.  For many years now I have lent my husband to the City to patrol the streets.  He keeps the wolves at bay so the citizens of the city can live under the blanket of security and safety that his existence provides, all the while knowing that the very citizens he protects may resent his presence.
Cops are jerks.  It's what keeps them alive and whole.  If they let all the crap they deal with actually sink in, it would destroy their souls.  They deal with the things you don't want to believe really happen.  They are physically and emotionally bruised, battered, and bloodied.  And at the end of each shift, when they take off the uniform and close their locker, they say a brief prayer of thanks for making it through the day safely.  There is one thing that a cop wants every day when he or she goes into work – just one thing.  At the end of their shift, they want to go home.  That's it, just to make it home where things are normal, boring, and safe. When all is said and done, that really is their job – to make it through the day and arrive home safe and sound.
If you see a cop today, smile, say hello, and lift a silent prayer for his or her support system.  Your prayers help keep them sane.
Original story cleaned and condensed. Author unknown.