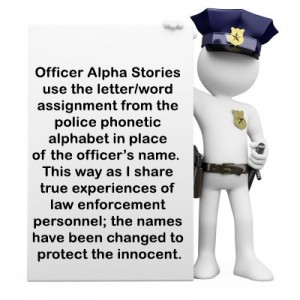 Officer Edward,
Like many officers before him, Officer Edward was called upon to administer CPR to a lifeless victim as part of his duties.  Properly implementing the life-saving techniques as trained, he had a confident expectation he would be able to resuscitate the victim. But this time, things were different.  This night would become his nightmare.
After clearing the house under the cover of darkness, he found himself sitting in a pool of blood working with his partner trying to bring a young woman back to life.  His ears were attentive to the drumming sounds of breaths and compressions, but he was silently praying for a ringing of sirens that would shout the arrival of emergency medical personnel.
The officers continued their dedicated service for what seem like eternity, hoping they would soon embrace the gasp of respirations from the victim.  Exhausted, but still committed, Officer Edward was finally tapped on the shoulder by paramedics and slid out of the way.  To his disbelief, CPR did not continue.  His heart and his ears rejected the words he heard.  "She is gone," they said.  In disbelief Officer Edward yelled in anger, arguing "NO! It's not possible!  It's your turn, we can do this. We can bring her back!"  Officer Edward was led from the room and away from the woman's body by his supervisor.
Officer Edward found himself with tears flowing freely from his eyes onto his dark blue uniform shirt and onto the floor.  It is one of those moments when others wonder about him, but he really doesn't care.  He is supposed to stay strong and hold it all in, but he just can't find the strength.
There are no words in the human language to express the pain and sadness experienced by Officer Edward and his partner that night.  It was not his first time he has been covered in someone's blood or had looked death directly in the face; it's one of the duties he took an oath to perform.  It's just hard to embrace the truth of reality when Edward worked so hard and believed with all his might there would be a different outcome.  The problem this time, somehow, became personal.
Officers know the dangers of opening their hearts.  Emotional stability day in and day out requires a separation of the heart from certain parts of your job.  Officers become vulnerable when they carry the pain of others.  The act of caring too much is always the part of the calling that possesses the possibility of ending your career.  For a cop to be able to do his job well, he must be able to keep his emotional walls intact.
Officer Edward told me, "When an encounter like this occurs, it cracks you like humpty dumpty leaving you shattered.  These are the times you call your grandmother, reminding her you love her.  These are the nights you give an extra long squeeze to your wife when you come home.  You might even slide into bed with your young child for a while before trying to go to sleep.  These are the rare times you are reminded your soul is not designed for this type of pain and grief."
I remember listening to Officer Edward as he retold the account detail by detail.  I could tell by the look in his eyes he was replaying the video feed embedded deep within his mind and re-living it as he had many times since the event.  We talked about life, death, and the evil in this world.  I reassured Officer Edward that he was making a difference and that he could go on even after this event.  We prayed that day for strength and endurance.
Officer Edward is a great officer.  He is committed to serving his entire career in law enforcement.  I have seen Officer Edward numerous times since the event, and he seems to have renewed energy and a focused life.  He is committed to making himself available to other officers during their hard times.  His love for God and for people is commendable.  I pray often for Officer Edward and all the "Officer Edwards" out there whose hearts contain tragedies.
Thank you, Officer Edward, for your willingness to endure grief and fight for the lives of others.  The Lord in heaven sees your work and has prepared a reward for the care you have provided for His precious little ones.  Thank you for being real and for serving with a pure heart.
If you see a cop today, smile and say hello.  Offer up a silent prayer of thanks for the sacrifices they make, and lift a prayer for them to be strong enough to carry the weight of their job through the end of their watch.