Supporting law enforcement by bringing hope into their workplace."
Connection Newsletter
---
May 2014           Volume 3 Issue 5
---
Thanks to the charitable giving and prayers of Code 7 supporters and sponsors, law enforcement officers and their families benefit from a wide variety of encounters and blessings. The following are some examples of what we did last month:
·     Code 7 hosted 40 police officers and their family members at the annual Law Enforcement Prayer Breakfast this month. A special thanks goes to EastLake Church for the generous donation that helped make this blessing possible.
·     Code 7 sent two law enforcement families to a Padres baseball game.  One officer from the Chula Vista Police Department and another from the National City Police Department enjoyed free parking and terrific 3rd base field-level seats complements of our faithful supporters at Meza Paints.
·     We celebrated Dispatcher's Week (April 14-18) with a special Chick-fil-A platter and homemade carrot cake by a "Next Great Baker" TV reality show contestant Aimee Anderson.
·     Jersey Mike's in Otay Ranch provided a squad meal for the midweek swing shift in Chula Vista. Thank you, Raul, for the pleasant surprise and for fueling the cops with those terrific subs!
Many thanks go to our sponsors. I don't like to make this an infomercial, but I believe in sharing appreciation for our sponsors.  Sponsors help provide the finances that allow me to support officers in the field, as well as go the extra mile with providing fun times for the families to get together and enjoy special times.
As Code 7 Chaplain I have the privilege of serving in various capacities as well. This Thursday, May 8, I have the honor of giving the invocation at the Chula Vista Police Department Awards Ceremony.  I will be outfitted for the first time in my Chula Vista PD Chaplain uniform.  It should be fun to dress up and participate in honoring the men and women for excellent and sacrificial service.
In addition, on May 13th I will be sworn in as Chaplain for the National City Police Department. I am delighted to serve the men and women in my neighboring city, and I look forward to building relationships with the NCPD.
One of my recent adventures included an invitation to speak to the CVPD Teen Police Academy where I shared the vision and purpose of Code 7.  Teens can be quite a spirited bunch out at the mall, I'm sure, but they were pretty reserved at the police station. Fun times!
Some of my favorite activities this month were opportunities I had to spend time getting to know people on a more personal level. I enjoyed mountain biking with an officer, as well as hosting a small group Bible study on Sunday afternoons focusing on being men that follow the example Christ set during his 33-year ministry on earth.
An inspiring update: the officer that came to faith in Christ a few months ago is still doing very well and is learning new things in his faith all the time.
Thank you for your interest in and support of Code 7.  You make a difference in the lives of law enforcement officers and their families.  Through your donations, I am able to spend time roaming the offices and standing next to them on the streets while they protect and serve.  The mere presence of a chaplain is often enough to change attitudes and save officers from slipping into despair. Cops can be refreshed by conversation and simple acts of kindness like a cup of coffee late at night and a willing, confidential ear to listen as they unload some of their troubles.
Thank you for caring for me as I care for them!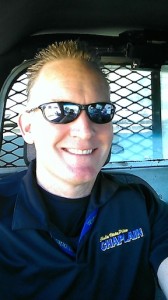 Founder/Chaplain Code 7
"Though our feelings come and go, God's love for us does not." C.S. Lewis