For consider that the sufferings of this present time are not worth comparing with the glory that is to be revealed in us. Romans 8:18
Life can be illustrated by a Lite-Brite toy.  God created for each of us a light box with a matrix of holes.  We are the paper inserted into the box.  He pokes holes in the paper of our lives with sharp colorful objects.  The location of His poking is intentional and He is very accurate.  He seems to know our tender spots–the areas we don't usually expose to others.  Sometimes, it may seem that God places the pegs randomly, but I have come to understand that the prodding of the Lord is done with precision timing.  He has a way of poking precisely when we had something else in mind.  He really makes a mess of our plans.  The entire process is pretty difficult, but that's what we know as life.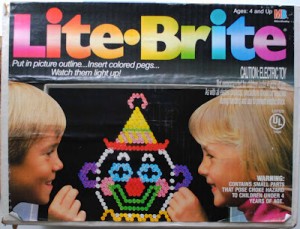 Unlike Hasbro's toy set, God has an unlimited supply of colorful pegs to insert into our lives.  When complete, His creations are a spectrum of brilliant color.  He illuminates our lives and we radiate the glorious display of His beauty in us.  We don't often get to see the great designs He creates through our lives, but that is all part of His plan.  Our lives are His workmanship for others to see and give Him glory.
Where are you getting poked today?
Lord, light up my life today.  In the midst of the poking, help me display Your goodness to others.
Blessings,