And we urge you, brethren, caution the disorderly, encourage the fainthearted, help the weak, be patient with all men.  1 Thessalonians 5:14
I encountered Gramps one day as I traveled across town.  He had definitely outlasted his Energizer Bunny.  He was bordering a safety violation for slow speed and was surely attempting to prove the phrase; slow and steady wins the race.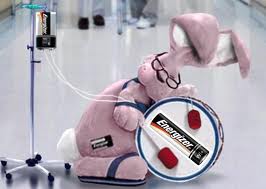 I can still smell the rich fuel mixture emitting from the early 60's, large block V8 gramps was driving.  Light blue in color, the Chevy four door reminded me of the car I took many trips in as a kid with my Grandpa Melton.
However, unlike my hip grandpa, this guy was zipping along through the 35 zone toward the green light at a whopping 15 mph.  Gramps was nearly driving at the speed of sound — the sound of my voice yelling at my windshield!  Go already!  The light is green!  Stand on it, gramps! At that moment he was nearly driving over his head, and I was about to lose mine.
There was nothing I wanted more than to pass the geriatric gentleman and be on my way.   But, out of respect for my grandfather, I hesitated.  I heard something inside me say, "Don't do it.  Be patient and wait."
What happened in the next couple of seconds made an impression on me for a lifetime.  Joe Blow and his car came racing through the intersection against the red light and crossed right in front of gramps.  I did a mental fast forward and played the probable results if I had passed.  I imagined the crunching of metal, and my souped up little VW Bug being tossed into someone's yard a couple of houses down the street.  All I can say is, thank you, God, for not letting me pass.
If you take a rear view mirror glance of your life, I am convinced you will recognize the hand of God saving you from yourself, and from the Joe Blows of life rushing carelessly through your green lights.  Contrary to our feelings, or popular belief, God does have our best interests in mind.  Sometimes being behind gramps was exactly what He intends and exactly where we are supposed to be.
It was through this exercise in patience that I was reminded; God's delays are divine appointments and a means of damage abatement.
Who is the gramps in your life today?  Who is driving you crazy?  A boss, child, spouse, friend, God?  Whoever it is, I encourage you to seek the Lord and travel the roads of life with patience and care.  If you listen for God's voice, have confidence in God's timing and His plan, then things should be back up to full speed in no time.
"The times we find ourselves having to wait on others may be the perfect opportunities to train ourselves to wait on the Lord." – Joni Eareckson Tada
Blessings,