April brought springtime and newness to the ministry of Code 7.  The month began by delivering Code 7 trays filled with baked goodies to the entire department.  From the jailers in the basement to the Dispatchers on the 3rd floor, and everybody in between, the cookies, cupcakes, and sweets were enjoyed by all.  On behalf of the PD, I want to thank the Code 7 Baking Buddies for pulling off an incredibly sweet blessing.
I shared lunch with two other law enforcement chaplains this month.  To me, it's important to become familiar with other agencies, and I would love to see a network of chaplains from around the county.  I am doing my part by sharing the Code 7 concepts with others.  I am finding that many of the things I do are brand new concepts to others.  I am blessed the Lord keeps putting these things on my heart and that I have the privilege of spending so much time with the officers getting to experience their needs first hand.
Code 7 started a new tradition at the Chula Vista PD this month by giving welcome gifts to the new officers.  During roll call, I was allowed to present each new officer (four of them in total) with a Certificate of Congratulations and pledge of support from Code 7.  Also presented was a set of black Peerless handcuffs etched with the Code 7 logo, California Police Equipment logo, and the officer's badge number.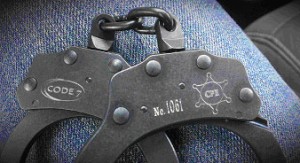 The officers were given an envelope with gift certificates to C.P.E. and Donny's Café along with a Code 7 brochure outlining our services. Everyone in the room was impressed.  They said they could feel the love and care of their Code 7 Chaplain.
May brings with it the blessing of adding Macaroni Grill in the Otay Ranch Town Center as a new sponsor.  May will be featuring the first of what we hope will be many Couples' Date Nights.  This month two couples from the law enforcement community will enjoy a night out with dinner, a movie, and a fun relationship building exercise complements of Code 7 and faithful partners like you.
I am constantly reminded that Code 7 is much bigger than any one person.  It is all of us unifying our efforts that will bring consistent hope into the officers' lives.
Please remember Code 7 when you sit down for your dinner prayers. We are able to move forward and walk through open doors by your faithfulness. I would also greatly appreciate your financial support of this ministry. If the Lord provides an offering, please consider Code 7.
Blessings,