Code 7 Connection Newsletter Qtr 2 2018
"QUOTE OF THE QUARTER"
"Awww man, Wes, seeing you walk in is like seeing your girlfriend with another guy" – a Chula Vista Police Sgt. as I walk into the coffee shop with a CHP officer. I say, "It's only one date."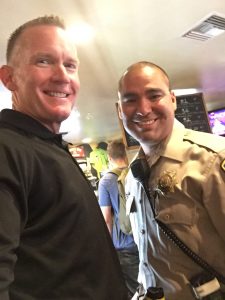 Code 7 exists to serve and support law enforcement agencies, their personnel and families. Our mission is to bring hope into the workplace of our cops. Thank you for your interest and involvement with our non-profit organization.
T-shirts
Code 7 printed up some stylish short and long sleeve t-shirts. Shirts are limited in supply and are available on a donation basis. If you are interested, reply to this email, and I will send you the details.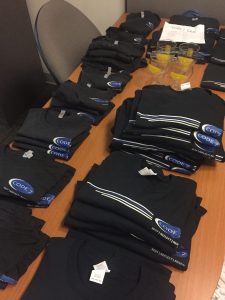 2018 LE Torch Run for Special Olympics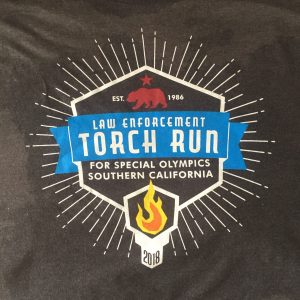 The 2018 Law Enforcement Torch Run for Special Olympics was held on May 29. I took the opportunity to run with law enforcement from around the county and raise funds for the Special Olympics. CVPD hosted the Opening Ceremony and initiated the first of 16 legs spanning from Chula Vista to Oceanside.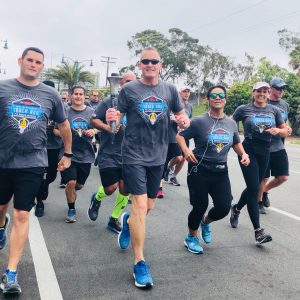 After running the first 5.3 mile leg, I decided to keep going and ended up downtown at SDPD headquarters with a few other eager runners. When it was all said and done, I had run 8.9 miles and collected a commemorative t-shirt and a souvenir skinned knee from a completely graceful stumble, thanks in part to a roadway pothole. The run was worth the effort and helped a terrific cause and has been added to my yearly must-do list.
Care and Crisis Instructor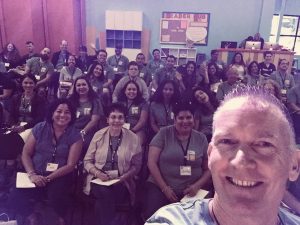 I was asked to provide training for a conference EastLake Church was putting on for their network churches. I enjoyed presenting "Caring in Times of Crisis" to staff and leaders during two sessions. I enjoy sharing from my passion zone and made great connections with people possessing similar gifts and interests. Student notes are available if you are interested. Freely I received, freely I give.
O-Line Officers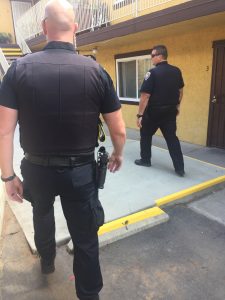 While on a ride along a week ago, I was following my partner and his backup to the front door of a family disturbance. As we approached, it struck me that the guys I was with are probably amongst the two largest officers on the force.
At a little over 6'2", I don't usually need to look up to talk to people, but when standing with these officers (6'5" and 6'9") built like football offensive linemen, I gained an entirely new perspective. I didn't get very much sun on my ride along that day. I don't often feel like a football running back, but with them, I kinda did.
CVPD Annual Awards and Recognition Ceremony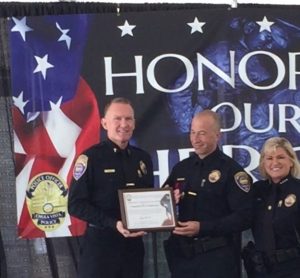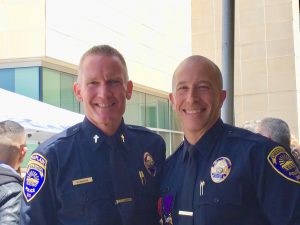 Chula Vista Police Department Awards Committee selected me as the recipient of the Exceptional Service Award for my role during an incident while I was on a ride along last year. I was honored to stand with my friend D. Sachs and Chief Kennedy on stage to receive the commendation. My favorite part of the script that was read during the presentation was "armed only with his faith and quick whit, Wes…" I'm truly thankful for the recognition, but personally, I prefer the view from behind the scenes much better.
Coffee and cops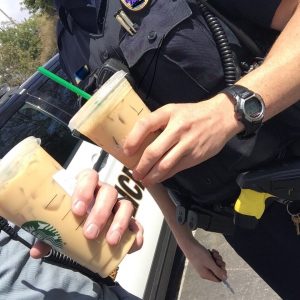 Uber-faithful sponsor and long time friend of Code 7 Donny's Café in Bonita is always 1st choice, but afterhours – sometimes Starbucks. This picture was taken just before an impromptu but very needed 90-10 conversation. I listened 90% of the time and along the way interjected the10% encouragement and affirmation. The situation was much better after the "Code 7 coffee stop."
Thanks, sponsors! YOU make these moments happen and are a key to the wellness of our police officers. Every donation counts!
Partnership with DeleteMyInformation.com
Speaking of officer wellness, there is an opportunity for our law enforcement (and YOU) to reduce your online social footprint and support Code 7 at the same time.
Code7 and DeleteMyInformation.com have partnered to provide the Law Enforcement community with a service that identifies an individual's online exposure and outlines a systematic plan to reduce your social footprint.
Social footprint is how we refer to the amount of personal information such as, addresses & phone numbers that are available about a person online. The DeleteMyInformation.com product does not ask for people to remove or change how they express themselves, but attacks data-miners, and detaches the link between the data aggregators and the client.
A breach in privacy could have dire consequences to a police officer and his/her family or for you. Unfortunately the hyper-availability of personal information is an emerging threat in today's social environment. Within a couple of clicks, anyone with interest or those with criminal intent can typically find extremely personal information that most would expect to be private.
With a social footprint reduction we can help you and those in law enforcement regain control of their privacy. To sign up, visit DeleteMyInformation.com and when checking out enter promo code: CODE7 to save 10% which will be donated back to Code 7 in continuing support of the law enforcement in our community.
Looking Ahead to July
In July each year, Code 7 links the 7th month with our name and uses that as reason enough to provide squad meals for each of the patrol teams. Chula Vista and National City Police will be briefed on our services and given breakfast, lunch, or dinner, based on their work shift. I love to be able to brag on YOU, our financial supporters, and remind the cops that the public, businesses, and churches are thankful and applauding their work for our communities.
I would be happy to have you join me during lineup when the meal is provided and personally let our police officers know of your appreciation for their hard work.
In Conclusion
Your one-time and monthly sponsorship of Code 7 not only funds the services we provide, but also provides a portion of my income allowing me to be in the patrol car two-times weekly as well as meet with the officers and their families to assist in life difficulties and renewed connection points with family and faith.
Together with you as our sponsors, we continue to nurture an environment where our police know the community loves and supports them.
Blessed are the peacemakers, for they shall be called sons of God. Matthew 5:9
Blessings,
Wes Anderson
Founder/Chaplain Code 7
"You are not here to save the world, but you are here to touch the hands that are within your reach" ~ Kathleen Price