"Acting stupid is not illegal – it's just stupid."
If I were to say the first quarter of 2019 was business as usual for Wes and Code 7, it might make it sound uneventful – like it was quiet for me as chaplain and for Code 7. Well, it was, but it isn't. Confused? Lemme splain…
Once you have been consistently exposed to the stresses, elements and daily activities that come through the lens of a police chaplain and trauma/crisis responder for a period of time, the impact of the circumstances can become less impactful on your system, hopefully because you learn the art of healthy processing. Everything doesn't land safely packaged and processed in the heart, but more can over time. Moving from crisis to crisis is still deeply personal, requires prayers, and my full presence to effectively provide comforting support to the ones I'm serving. It also takes follow-up. Prayers are ALWAYS appreciated.
Anyway, on to the NEWS for this newsletter…
Back to Back to Back – Epic Morning Activities:
Friday I had a great breakfast. Saturday, an early morning run, followed by emceeing the graduation of eight new heroes in my city – here is more about all that.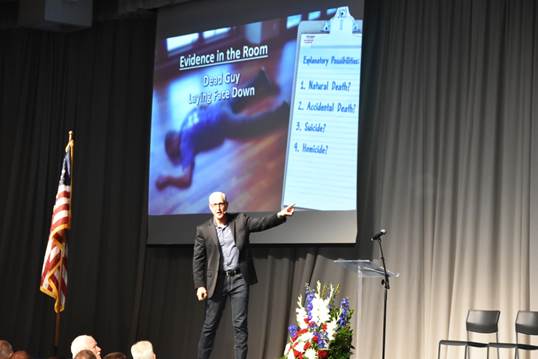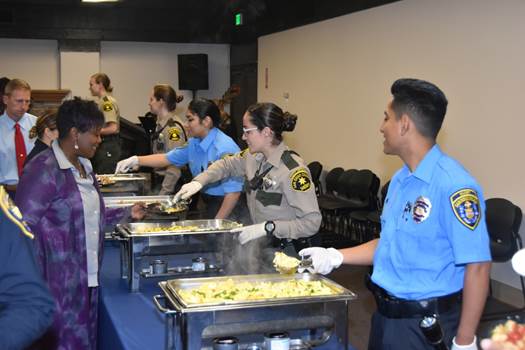 The breakfast. The 28thAnnual San Diego Law Enforcement & Emergency Services Prayer Breakfast was held Friday morning. Somewhere in excess of 500 people were in attendance. Code 7 was blessed with a sponsorship of two tables from a retired cop. He told me he knows the value of these gatherings and wanted to make sure he helped facilitate his former coworkers getting together, having a breakfast, and potentially experiencing a life-changing morning. Mission accomplished.
The speaker, J. Warren Wallace, is a retired cop who used the process and elements of a crime scene (cops love that stuff) to illustrate the need of exploring the facts of God's existence and ultimately the need of a relationship with Him. He was so engaging, informative, and entertaining that we were eating out of his hand. Amazing presentation – epic morning!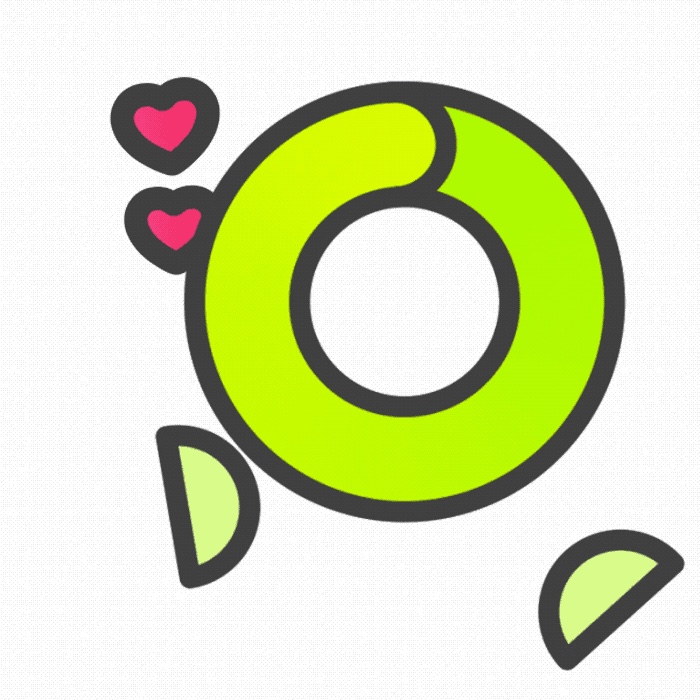 The run. Running before and through the sunrise was a magnificent treat, as long as you don't mind getting up in the dark and running. I don't mind, especially when I get to do it with my grown and married daughter. She invited Daddio out of his distance running "retirement" to share a half-marathon with her, which is happening later this year. By sharing, I don't mean we each run a portion–that would be nice–I mean we run it together.
With the So. Cal super-bloom in full effect, we ran to a spot where I know we could frolic in the flowers and run through the 8' tall mustard plants. A picture is worth a thousand words, so I'll be silent and let these pics finish telling the story.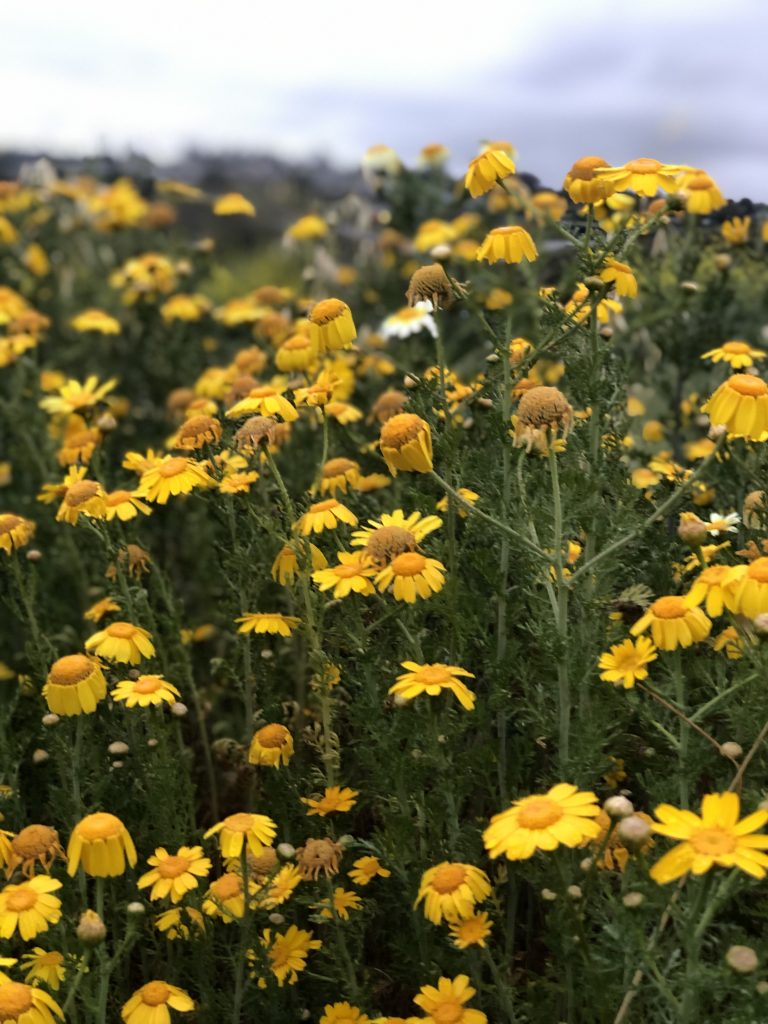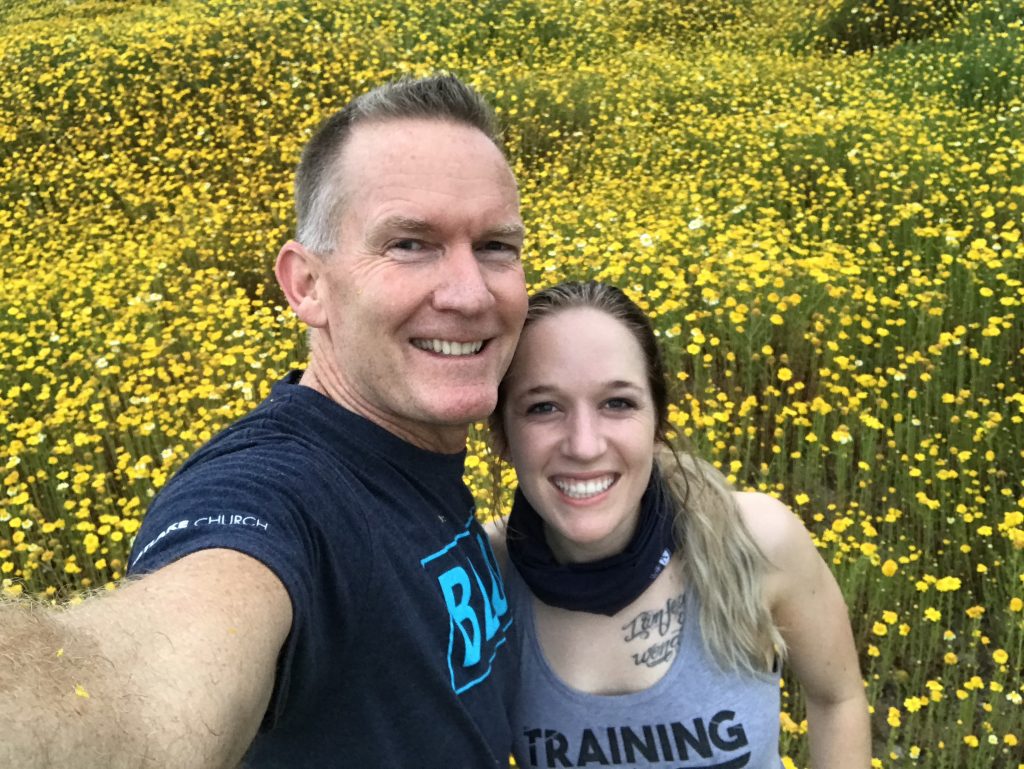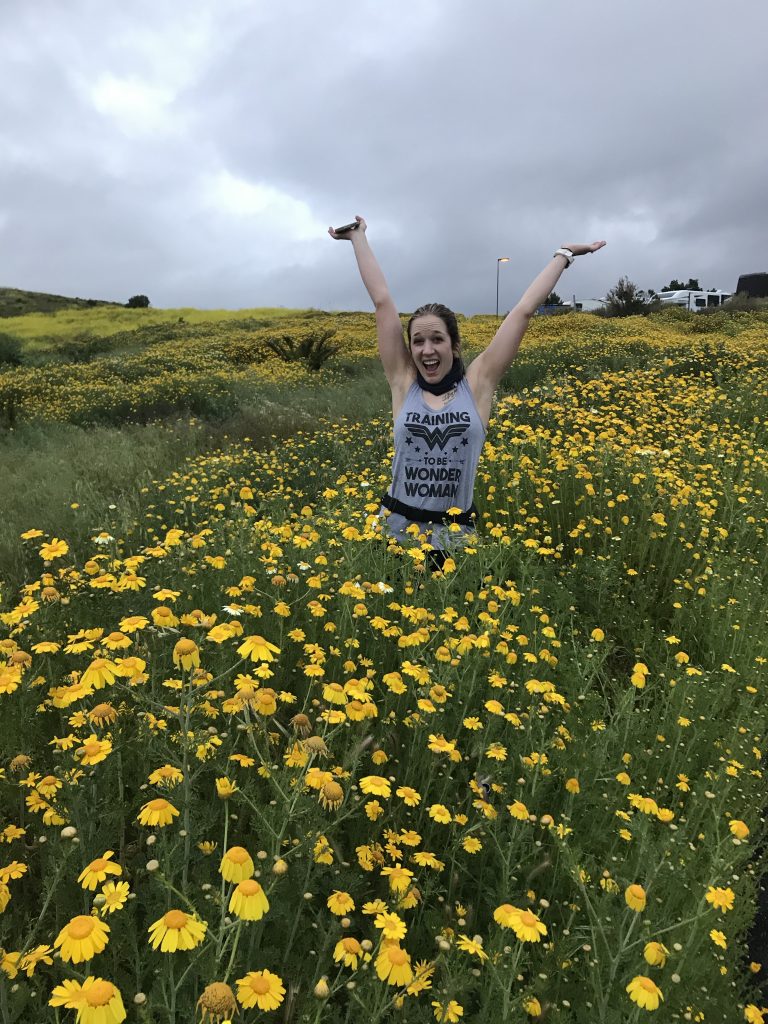 The Heroes. For the past three months, roughly six hours a week, I have been participating in the training of eight amazing people who have willingly volunteered themselves to become trained as crisis responders through the organization called Community Adversity Support Team (CAST). Each individual felt a compelling urge to become trained to step into a stranger's world at the request of the police or fire department, and provide real-time support when someone has died or become traumatically impacted. These life-altering moments require people incredibly gifted with compassion, empathy, and grace. To become involved in this type of service receives my utmost praise and generates applause for their completion of the academy.
Yesterday, as I stood before the graduates of CAST Academy #28 with the Chula Vista Mayor, Police Chief and Fire Chief to commission them in their service to our community, I couldn't help but think of how blessed I am to be an influential part of such a valuable service to our community. A unique element of this particular class is that two of the graduates were recipients of care when their loved one died and determined in their hearts that they wanted to give back one day to someone else the care and love they received on the worst day of their own life. It's so touching to know their lives were deeply impacted in a positive way by our team.
Here they are – the Amazing Eight!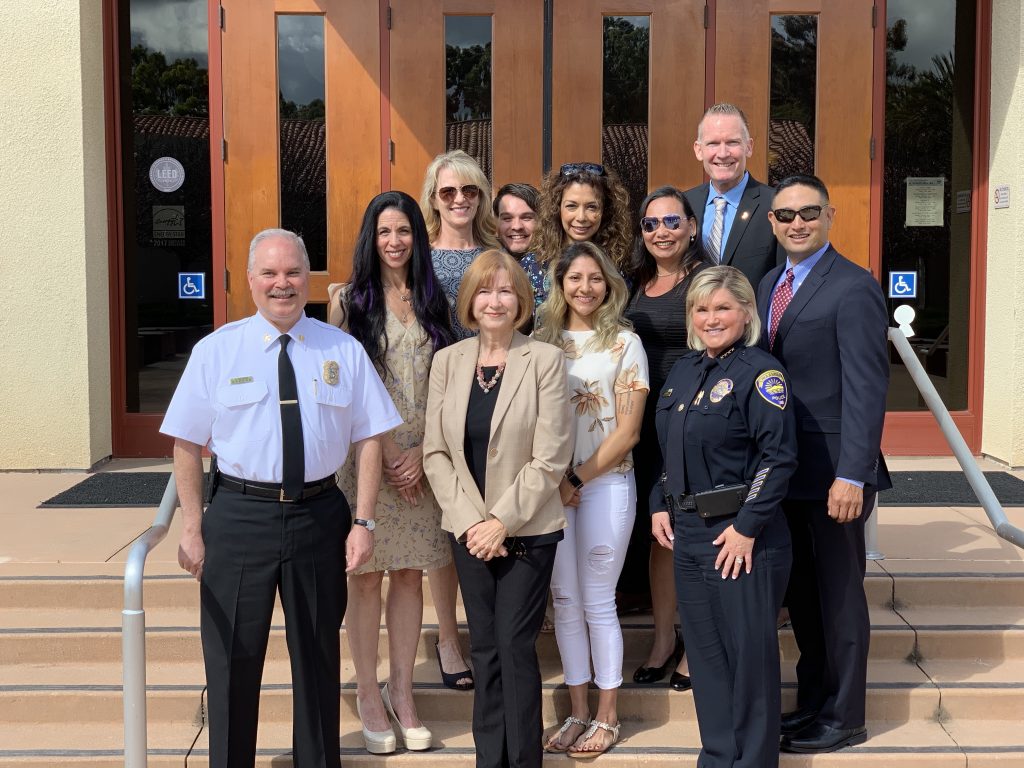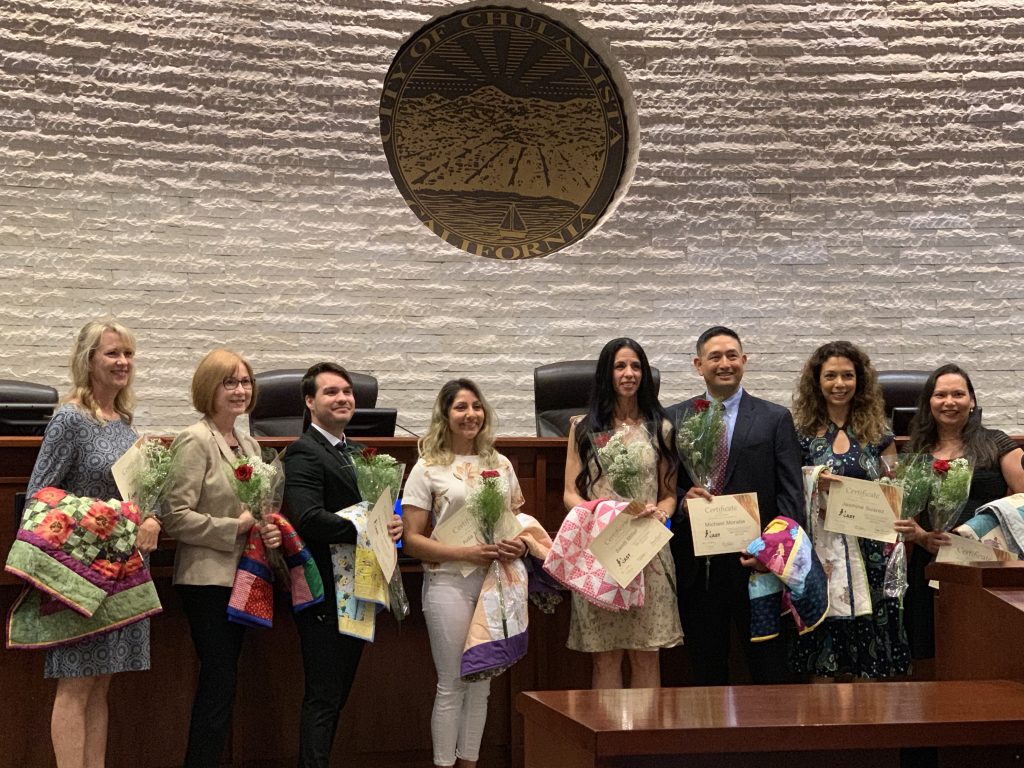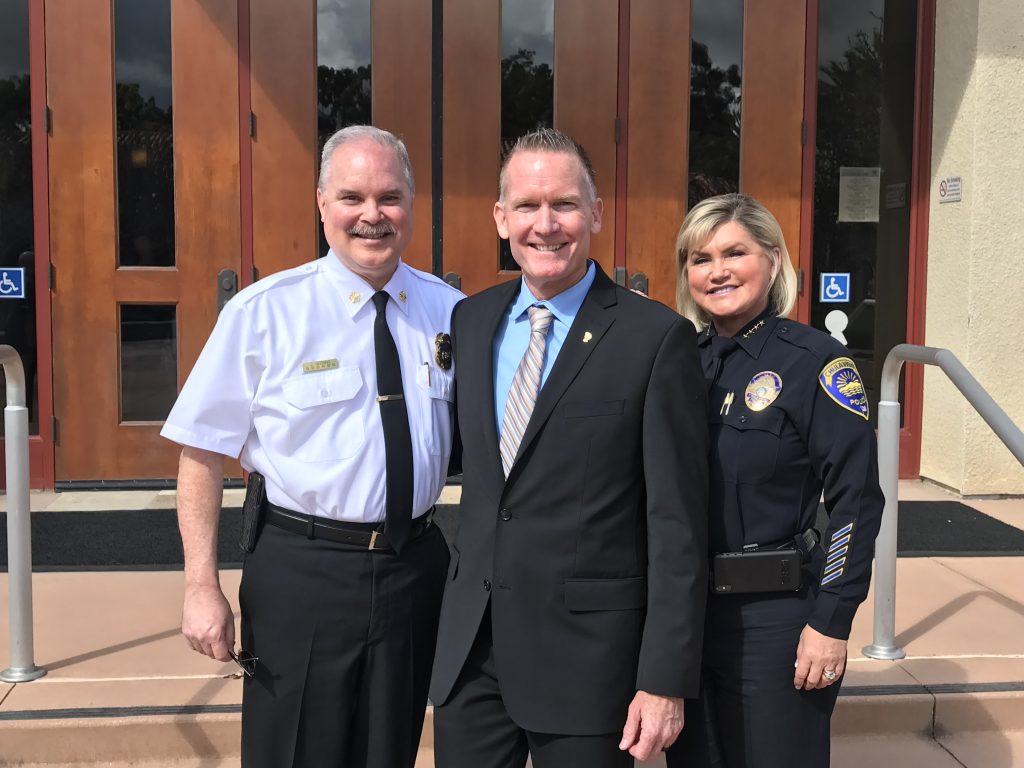 EASTER
In a couple of weeks, we will be celebrating Easter. The day we celebrate the resurrection of Jesus – the mighty power of God raising Him from the dead as He made payment for our sins. Is there a more glorious morning? I don't think so.
This year I will be sharing a resurrection message at Glen Abbey Memorial Park's first Sunrise Service at 6:00 AM. Wherever you are the morning of April 21, 2019, may the reflection of God's work bring you in close connection with the one who lovesyou to death and provides eternal life.
Ponder the unbelievable, unexpected, and dealing with the day-in-day-out drama our police officers and their families encounter as they serve the community. Please pray for them as they continue to serve us. Pray for their loved ones and the relationships they share.
I am blessed by your partnership as together we build strong and hopeful support for our law enforcement and their families. Together, the Lord gives strength for us to do unimaginable things.
I pray that your hearts will be flooded with light so that you can understand the confident hope He has given…Ephesians 1:18a (NLT)
Blessings,
Wes Anderson
Executive Director
Code 7"You are not here to save the world, but you are here to touch the hands that are within your reach"~ Kathleen Price