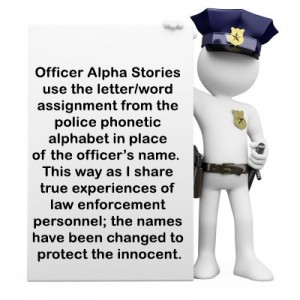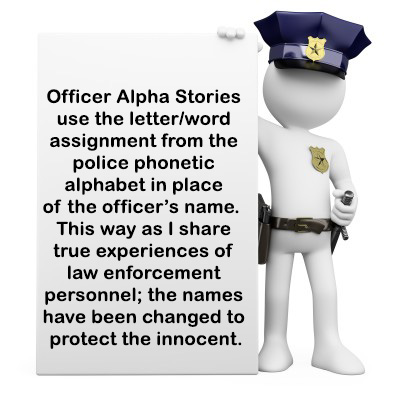 Officer Lincoln experienced a unique life and death incident while on duty.  At the start his shift, he was sent racing to an address to help a woman in distress.   He parked directly in front of the house, and rushed to the front door with another officer. To his surprise, he was greeted at the door by a woman holding a warm, pink-skinned baby girl she had just delivered at home all by herself.
The scene obviously presented no yelling, fighting, knife, or smoking gun.  The smiles on everyone's faces reflected the excitement of a joyful and memorable morning.  It was quite a nice change to be called to a happy scene where the only crying noises were the slight whimpers of the infant being exposed to light and the elements of this world for the first time.  Officer Lincoln hoped to savor the serene moment all day long.
He did not get his wish.  As a matter of fact, just the opposite was true.  His next encounter set him back a bit.  As soon as he was done welcoming this newborn baby into the world, he was dispatched to assist the distressed family of a 32-year-old husband/father who was just found dead at his home.  The pinnacle of joy of celebrating new life came crashing down with the shattering news of death.
At this next scene, cries of sadness and shouts of pain welcomed him at the front door.  The anguish of unexpected death left everyone begging for answers and demanding assignment of blame.  No words of wisdom or comfort would soothe the sting of death, and Officer Lincoln knew it.  With deafening silence, Officer Lincoln began processing the scene as his duties prescribed.
It is rare to experience the joy of birth followed by the crushing devastation of an unexpected death during the same shift.  If law enforcement were recognized with patches for completing special tasks like the Boy Scouts or Girl Scouts, Officer Lincoln would be adding another patch to an overloaded sash displaying all the accomplishments he has fulfilled doing the routine tasks of his day.
Navigating the distance between life and death and giving caring services are not what cops signed up for, but it's part of the collateral duties they provide.  The work is hard.  Cops are underpaid and overworked in many instances, but they stick with it.  Why?  Because they care.  If they didn't, they wouldn't put up with all the crap that goes with the job.
The next time you see a cop, smile and say hello.  Remember to say a silent prayer for the things they carry in their hearts, the life and death they encounter, and their sacrifice.
Lord, please watch over our law enforcement officers and return them home safely tonight to their loved ones.  Thank You, God, for Officer Lincoln and all the other Officer Lincolns serving in our communities.