Connection Newsletter * May 2015

---
Thursday, May 7 Code 7 joined at the National Day of Prayer festivities on the USS Midway.  I was honored to give the invocation for the Annual Awards and Recognition Ceremony for the Chula Vista Police Department.  It's always fun to celebrate the accomplishments of the men and women serving our community.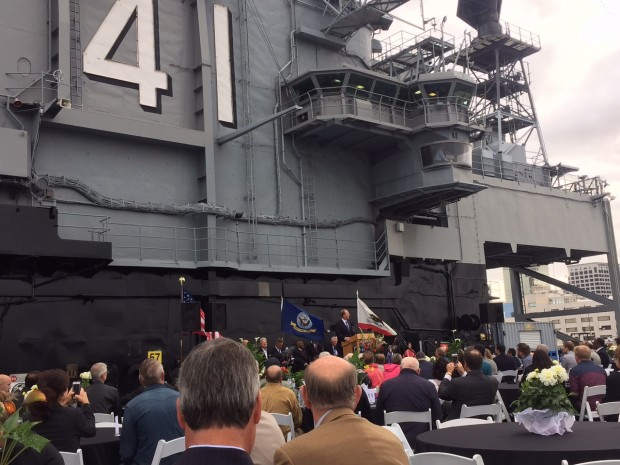 ---
April brought with it an opportunity to attend my friend Mike's final walk out as a Police Officer with the City of La Mesa.  Mike's wife wrote this about him:  "I thank God for His grace, mercy, and protection over Mike.  I'm exceptionally proud of his strength to deal with the very dark, ugly side of humanity. I'm proud of his generosity and kindness to strangers. To my husband I say WELL DONE!"   I couldn't agree more.  Thank you, Mike, for your lengthy and successful service!
---
Last month our nation suffered through civil unrest prompted by clashes with law enforcement.   The focused anger and frustration toward law enforcement was again inspired by the powerful voices of the media.  The negative steering of our nation's attitude toward those in authority has caused damage, and the actions of a few cops has tainted the public view of the police force across our nation.  Please pray for our officers as they strive to serve the citizens of their communities while the hatred and resentment continues.
On a positive note, I was privileged to witness the encouraging of a couple of cops I spent time with this month. I was pleasantly surprised to be flagged down by two retired gentlemen (they waived to attract attention) to say thank you to the officers for the great job they are doing.  "You put up with a whole lot of crap every day, and I wanted to tell you thank you – bet you don't get that very often," he said.   That simple compliment made the officers' day. 
I do my best to remind the officers in line-up before shift that businesses, churches, and individuals in the community are thankful for their sacrifice.   If you have an opportunity to pause and say thank you to a cop today – take it.  You can make a difference too.  A kind word goes a long way.
A chaplain friend of mine is traveling across the nation stopping at law enforcement memorials and will conclude his trip at Washington D.C. this week.  To see his journey with a pair of others from San Diego, follow this link for their story.  https://www.facebook.com/SDPDHonorOne
Please remember Code7 each time you sit down for your dinner prayers.  We are able to move forward and walk through open doors by your faithfulness.  I would also greatly appreciate your financial support of this ministry.  If the Lord provides an offering, please consider Code7.  
Blessings,